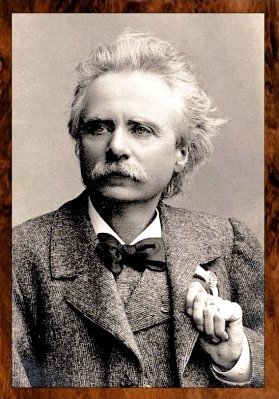 Chris from
My

kop

op 'n

blok
inspired me to write about Peer

Gynt

. I read his post about Peer

Gynt

and that took me back to my secondary school when I was 14. Our music teacher discussed the story about the music/play of Peer

Gynt

, composed by Edvard Grieg. I loved it, and "Anitra's dance" and "In the Hall of the Mountain King" were my favourite bits.
Last year, I taught a mixed Y5/Y6 class and I played them the animation on BBC 's
Radio 3's
website. The music you hear on Radio 3's site is "In the Hall of the Mountain King!" Have some "messy fun" on their site!!

We listened to the music first, they drew a storyboard, which they thought would suit the music best. Then I showed them the animation and they then drew a second storyboard with the real story in a sequence... they loved this animation which is quite good...have a look! I myself found it enjoyable! I was really impressed when I found it on the web!


Edvard Grieg (1843-1907) is the greatest composer Norway has fostered. In retrospect one may wonder how a country with neither national freedom nor a long tradition of art music could have produced a man of such genius. Up to 1814 Norway had been totally subject to Denmark, with Copenhagen as its cultural center. From 1814 to 1905 it was forced into a union with Sweden. The first half of the eighteenth century was a time of poverty in Norway and it was some time before it could assert itself among its Scandinavian brothers.
Read more
HERE
about the composer, Edvard Grieg.
Peer Gynt
is a play by the Norwegian playwright
Henrik Ibsen
. It was written in 1867, and first performed in Christiania (now
Oslo
) on 24 February 1876, with incidental music by the composer
Edvard Grieg
. Ibsen wrote Peer Gynt while traveling in Rome, on Ischia and in Sorrento. It was first published on November 14, 1867, in Copenhagen. The first edition comprised 1,250 copies. It was followed by a re-print of 2,000 copies after 14 days.
Read

HERE

about the play, Peer Gynt.
Whoops!! Just found this on Youtube!! Listen to "In the hall of the Mountain King!"
And.........here is "Anitra's dance!"